Doctoral Degree Program Architecture and Sustainable Development
The newly accredited doctoral study program Architecture and Sustainable Development presents the English version of selected topics of the current doctoral study program Architecture and Building Sciences at the Faculty of Civil Engineering, CTU in Prague. The doctoral study in English is a balanced focus on architecture, urbanism and cultural heritage and is intended for both graduates of Czech construction or architectural schools, as well as graduates from other related schools, including a number of specialists such as monument care and national institutions.
The close links between architecture, urban planning, architecture, cultural heritage and sustainable development have a long tradition in our countries. Comprehensive design and high-quality construction of the building requires the closest possible cooperation of all technical disciplines already involved in the creation of the concept of buildings, in parallel with the urban and architectural concept. The study program Architecture and Sustainable Development seeks to concretise this relationship within the framework of the third - doctoral degree.
The quality of knowledge and skills of the doctoral student of this study program corresponds primarily to his multidisciplinary concept, with balanced proportions of architecture, urbanism including landscape context, building and engineering with emphasis on contemporary values of cultural heritage, understanding of architecture, urbanism, building, environment and modern technology. The humanities component is also not neglected, especially in relation to history, sociology and ecology.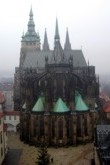 The aim of doctoral studies in general is to increase the theoretical preparation of graduates for scientific and artistic creative work on the basis of a specific study process, which includes the main features of architectural-urban-engineering activities and skills beyond the scope of the Master´s study. Doctoral study deepens and specializes in the basic profile of education in architectural, urban, land-use planning, construction and civil engineering issues and at the same time acquires the necessary information technologies necessary for these activities, which the doctoral student demonstrates in the form of theoretical and therefore scientific work. The acquired higher qualification, including language skills, significantly improves the position of the graduate on the labor market and predetermines his / her further participation in scientific and creative teams and further development of his / her academic career.